Happy Feet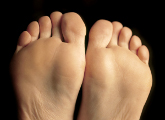 Feet are abused. Day in and day out we demand incredible things from our five-toed friends. We walk, we run, we cycle, we stand, we jump and we kick. We also cram them into finely pointed dress shoes, precariously balance them on platform shoes, and punish them in our work boots. Poor feet.
I often explain to the massage therapy students I instruct as a Doctor of Chiropractic that a good foot massage will create clients for life. Since we not only abuse our feet but we also tend to ignore them, it isn't until someone else pays any attention to them that we realize how good it feels to us when our feet are happy. Unfortunately, sometimes we let the damage continue until real problems arise: sprained ankles, shin splints, stress fractures, bunions, calluses, corns, hammer toes, arthritis and the list goes on.
Let's take a quick look at how these feet are built. Fourteen bones make up the toes alone with joints found in between each. Five long bones make up the top part of your foot and those meet seven bones that make up your ankle. All the bones are held together at the joints by connective tissues like ligaments and joint capsules. Muscles and tendons cross the foot on all sides and on different angles to help control movement of the foot. Together, this system of bones, muscles, and other tissues create what is known as a "flexible tripod".
The heel (known as the calcaneus) makes up the rear of the tripod while the ball of the foot at the great toe and at the 5th or smallest toe makes up the other two points of the tripod. Just like a stool with three legs is more stable than a stool with one or two legs, this tripod design provides for a balanced foundation. Thanks to the mobility provided by the joints and the support of all the soft tissues like the muscles and ligaments, the tripod is able to absorb shock kind of like a spring. Together, when all of the angles, positions, and forces are within normal limits the feet can be sturdy, strong and resilient while also providing intricate balance, sensitivity and control.
So what does it take to keep this intimate network of body parts in the foot happy? Here are some good ideas:

Wear comfortable shoes with appropriate support for the bottom or the arch of the foot. Allowing this arch to flatten over time can create mechanical problems and pain.
Massage your feet with a tennis ball or round dowel of wood as you sit during the day. Roll the ball from the heel to the ball of the foot with comfortably firm pressure. This will help keep the foot supple and increase the circulation in the legs.
Keep the feet clean and allow them to breathe as often as possible. Wear clean socks appropriate for the activity or work you are doing.
Keep the feet well manicured, massaged by a therapist if necessary, and examined by a chiropractor for any possible mechanical problems. Make sure the arches are equal on both sides and that at least 2 fingers will slide underneath past the first knuckle.
The feet are not only important in and of themselves. Improper care and function of the feet can lead to knee problems, hip problems, and low back or spinal problems. Correcting for foot abnormalities through chiropractic care, the use of orthotics (shoe inserts), massage therapy, etc., can not only keep you dancing on happy feet, but can also improve the life of everything else those feet have to carry. After all, everyone's health could use a good foundation.

Welcome!


---
Other Articles

About Our Practice
Dr. Hakimian and his staff are dedicated to the enhancement of your health and performance. We offer the latest equipment and techniques for the treatment of injuries arising from home, auto or work as well as sports and recreational activities. At our offices we treat the whole person, knowing that all parts of the body must work together for optimum health and performance.

Chiropractic is an Art, together with a Science and a Philosophy, which deal directly with the nervous system of our body. These nerves control all bodily functions, both conscious and automatic. The art is the gentle and specific adjustment or movement of the joints within the body to relieve pressure on the nerves and to produce normal joint motion. This action minimizes both wear and tear as well as pain.

Dr. Hakimian is concerned about your body's overall health, he can evaluate and treat your spine if it is degenerating. Dr. Hakimian can teach you how to strengthen and protect your back with exercises and proper movement. You may also learn about healthy lifestyle choices, since the health of your spine is linked to the health of your entire body.